Journal of Clinical Orthodontics (JCO): "The Diagnostic Advantage of a CBCT-Derived Segmented STL Rendition of the Teeth and Jaws Using an AI Algorithm"
Journal of Clinical Orthodontics (JCO): "The Diagnostic Advantage of a CBCT-Derived Segmented STL Rendition of the Teeth and Jaws Using an AI Algorithm"
We are proud to share this JCO article by Chen Lewit Borohovitz DMD, Zeev Abraham BDS, MS and W. Ronald Redmond DDS, MS. 
The article focuses on the diagnostic advantage of CBCT-derived teeth and jaws segmentation using AI.
It discusses how artificial intelligence can improve treatment outcomes, patient communication and treatment plans, and why the full segmentation of the teeth,
the bones, and the mandibular nerve can contribute to detecting different types of risks and damages to the teeth.
The article demonstrates the capabilities of visualizing virtual extraction of obstructing and overlying teeth and how that has changed the perspective of orthodontics.
It discusses how advanced AI technology provides better management of impactions and why transforming CBCT DICOM file into an STL model allows for better treatment planning.
The helpful information that can be obtained from segmentation of a CBCT scan allows us to see each tooth as an individual and examine it closer.
In addition, it offers a 360-degree visualization of the patients' teeth.
Generally, AI technology assists in performing time-consuming tasks that are impossible to accomplish manually.
(The article uses the Cephx.com web viewer to visualize the treatment planning of two case studies).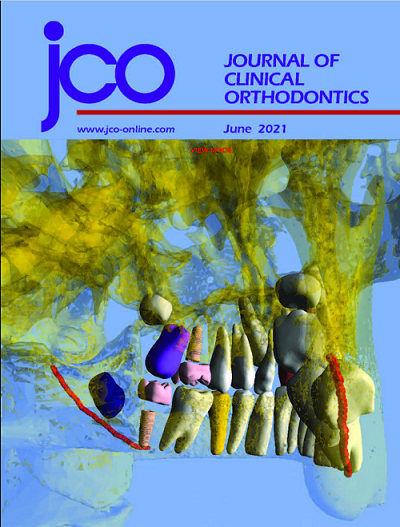 https://www.jco-online.com/archive/2021/06/361-the-cutting-edge-the-diagnostic-advantage-of-a-cbct-derived-segmented-stl-rendition-of-the-teeth-and-jaws-using-an-ai-algorithm/
Chen Lewit Borohovitz DMD, Zeev Abraham BDS, MS and W. Ronald Redmond DDS, MS.
The Diagnostic Advantage of a CBCT-Derived Segmented STL Rendition of the Teeth and Jaws Using an AI Algorithm.
JCO Journal Of Clinical Orthodontics. 2021 June ; 55 (6): 361.
https://cephx.com/wp-content/uploads/2022/08/JCO-front-page-2-1.png
527
400
Danny Abraham
https://cephx.com/wp-content/uploads/2023/09/Logo_CEPHX.png
Danny Abraham
2022-09-29 08:48:03
2022-09-29 08:48:03
Journal of Clinical Orthodontics (JCO): "The Diagnostic Advantage of a CBCT-Derived Segmented STL Rendition of the Teeth and Jaws Using an AI Algorithm"